With the emergence of COVID-19, people have been looking to profit off the fear of contamination. One of the methods that companies have been using is the substitution of electrostatic disinfection devices with fogger/ sprayer devices.
This is not only dishonest and unethical it is also not an effective method for disinfection of spaces occupied by people on a daily basis in an indoor environment.
Even if you put the same disinfectants in both an electrostatic device and a fogger, the technology and the results are quite different.
Sprayers and Foggers
The sprayers that are popping up all over the internet and social media are very low cost and are designed to spread pesticides in a household garden.
An example of a more popular one is the Ryobi One Mister Fogger seen below. These are intended for outdoor use. Please read the description from the manufacture:
Protect your yard with the RYOBI 18-Volt ONE+ Defender Multi-Purpose Fogger. The lightweight and portable design make it easy to carry throughout your yard and starts immediately with the push of a button. Ideal for spraying fungicides, herbicides and insecticides this sprayer can cover up to 10,000 sq. ft. per charge. The atomized particles reach up to 15 ft. settling in all those hard to reach spaces. Guard your yard from bugs, mold or weeds with the RYOBI 18-Volt ONE+ Defender Multi-Purpose Fogger, backed by a 3-year warranty.
Sprays over 10,000 sq. ft. per charge
Atomized particles reach up to 15 ft. away
Battery power for portability in your yard or campsite
Instant hassle-free starting
Lightweight design for extended use
0.5 Gal. chemical tank for fungicide, herbicide, and insecticide
Compatible with over 125 ONE+ tools
Includes: 18-Volt ONE+ multi-purpose fogger, 18-Volt 2.0 Ah battery, 18-Volt compact charger and operators manuals
They are in essence a trigger sprayer powered by a battery that soaks areas that are exposed with whatever pesticide being used. While that may work for a garden, it is not designed to work effectively in an office environment.
With this type of sprayer, the user must soak all surfaces for a minimum of 5 minutes for the disinfection to work effectively. Using this method, it would be faster to just terminally clean the entire work area.
Electrostatic Disinfection
Before the onset of this epidemic, we have been using electrostatic disinfection to disinfect high-touch surfaces and areas.
The effectiveness of disinfection using electrostatic disinfection is dependent on the device used. The device charges the disinfectant with a positive charge. This gives the disinfectant the magnetic ability to cover surfaces and objects in a 360-degree range, while providing touchless disinfection.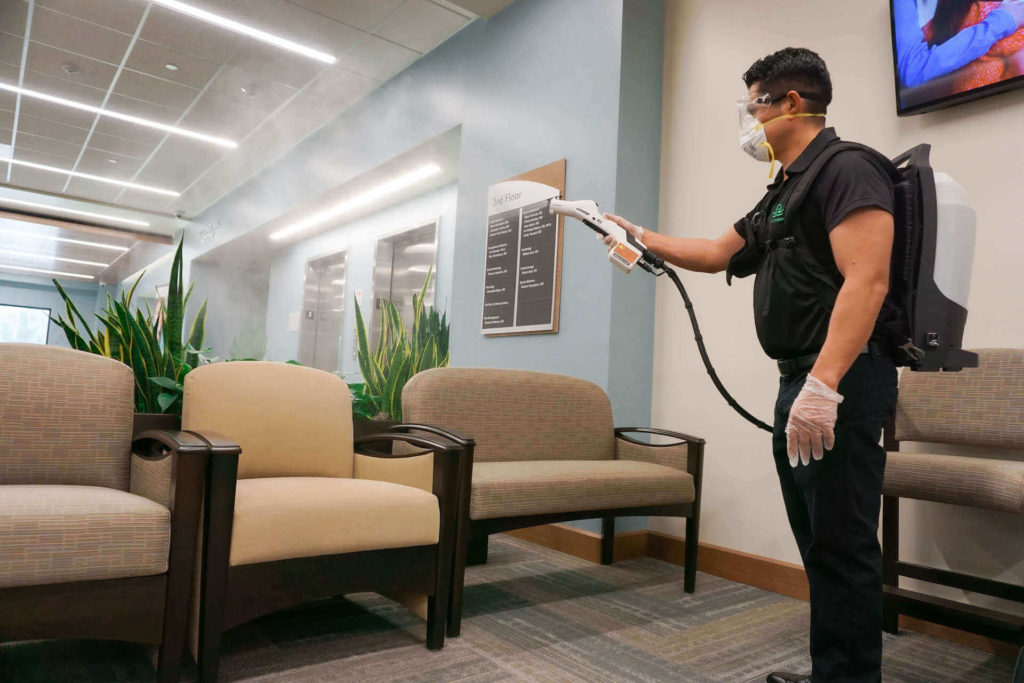 The Myth
While we are seeing posted claims that disinfectants used in the inferior and misused garden sprayers kill the COVID-19 virus, the sprayers do not provide disinfection to surfaces due to their lack of ability to positively charge the disinfectant so that it will adhere to surfaces and objects. They are selling the disinfectant's kill claim, but overlooking the ability to apply the disinfectant.
See the studies cited below from the EPA that were conducted on the disinfection of reusable decontaminated PPE and pay close attention to the amount of water runoff after using a sprayer vs. an electrostatic disinfection device.
This data alone proves that the use of a sprayer/fogger is not a substitute for electrostatic disinfection devices.
Sources:
Archer, J., M. Karnik, A. Touati, D. Aslett, AND A. Abdel-Hady. Evaluation of Electrostatic Sprayers for Use in a Personnel Decontamination Line Protocol for Biological Contamination Incident Response Operations. U.S. Environmental Protection Agency, Washington, DC, EPA/600/R-18/283, 2018.
Disinfection & Sterilization Guidelines. (2019, May 24). Retrieved April 10, 2020.