Everything you need in one place.
We can restore your tile floors, clean your windows and refresh your carpet. If you don't see a service that you need, just ask us. We are more than happy to do all that we can to make your facility look its best.
We also know that your facility is unique. That is why you have the flexibility to tailor services to your needs and create a schedule that works around your calendar. All of our accounts are personally managed by a business owner who is empowered to make things happen and motivated to do their very best.
Explore Service Options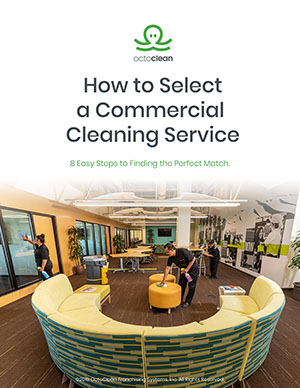 Finding the right partner doesn't need to be difficult.
Enjoy a free copy of How to Select a Commercial Cleaning Service.
Only the best for the best.

Safety
Although "green" products may not be an option for your facility, especially where high kill claims are involved, all products are EPA-approved and tested to ensure they are safe for human and animal contact.

Economy
Our team is trained to use those products properly. Using the right checmicals at the right concentrations saves money, eliminates product waste, reduces water usage and prevents surface degredation.

Efficiency
Our commitment to accuracy ensures that sustainable methods go beyond green product choices. You can rest assured knowing that every single product has been carefully formulated to produce only the best results.