Many of our customers want to reduce waste and overall, be more sustainable. Our cleaning programs and systems are developed with that principle in mind. But when we visited the 3M Carlton Science Center in Minnesota, we realized that the possibilities are endless. There is a lot that we can do to incorporate new methods that will improve our systems tremendously.
The 3M facility in Minnesota is massive, with buildings stretching across a total of over 400 acres. Their motto, "science applied to life," also serves as a mission statement. Science is the foundation behind their 60,000 products that have improved the lives of people around the world. One of the driving forces behind the research they conduct is sustainability. What better way to improve people's lives than to make their homes, workplaces and environment healthier? Of everything we learned at 3M, the lessons in sustainability were the most impactful. We left with three major takeaways we hope to implement at OctoClean.
1. Product Selection
3M alone has developed over 60,000 products. With so many options, research is required to select products that not only work, but produce a positive impact on our environmental footprint. Choosing the right products eliminates unnecessary steps that add more time and money to cleaning procedures. At 3M we were introduced to the Scotch-Brite Clean and Shine Pad. It is a floor care pad that doubles as a cleaning and burnishing agent to eliminate the need for two machines to first burnish, then scrub floors. The floor pad reduces labor and reduces waste by using less products and resources like water and cleaning chemicals. This has motivated us to find ways we can cut time down in all areas without compromising quality.
2. Dilution Control Systems
Another lesson we can add to our sustainable efforts is consistent chemical dilution. How well a concentrated solution mixes with water is greatly impacted by water pressure. Water pressure is measured in pounds per square inch (PSI). Solutions developed by 3M show almost identical color, or dilution of chemical, under both 30 and 90 PSI. The "other" solution, that shall remain unnamed, shows a huge variance in product dispensed and concentration of chemical under the same circumstances.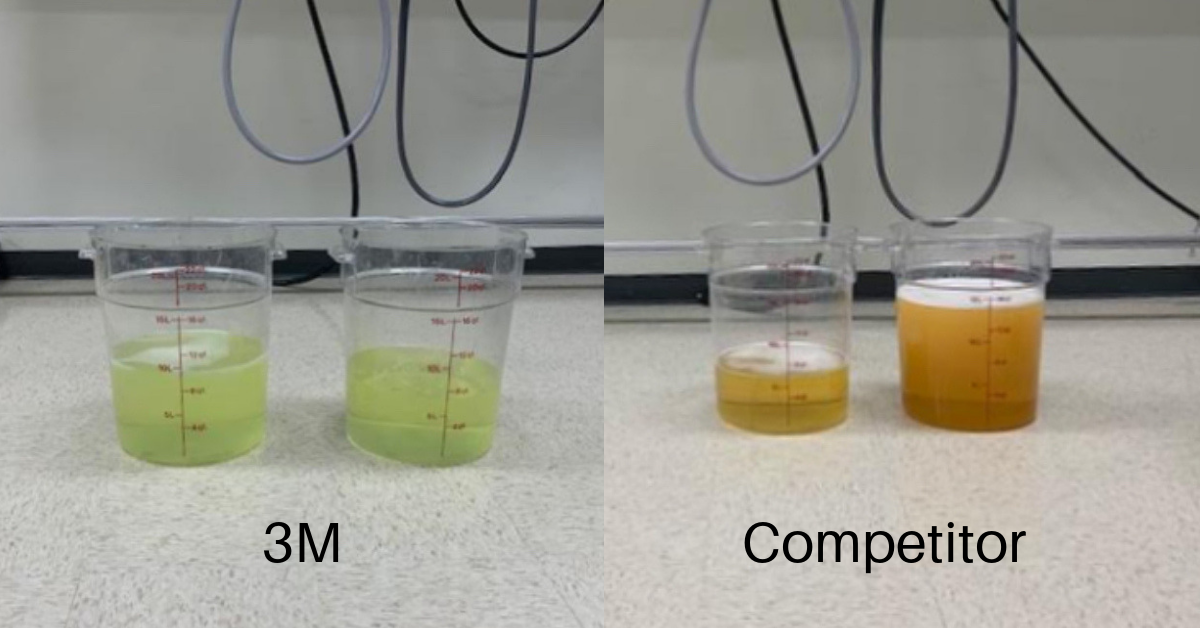 Inconsistent dilution control creates a list of problems. Number one, you can never keep track of how much product is used, which can lead to overspending or not buying enough product. If mixed incorrectly, the chemicals may not perform well, requiring our teams to redo the job. Over-diluting can also lead to harmful exposure. Lastly, a chemical that isn't mixed properly can strip many surfaces, causing damage.
Repairs and replacements are not in the budget. We have the opportunity to ensure the right dilution every time with products that mix better and water pressure that is consistent.
3. Surface Protection
Floor care services are 100% necessary to maintain the appearance and longevity of any floor, but it is time consuming and costly. 3M has thought of a way to reduce the number of times a year your facility requires floor care. The answer is the Scotchgard Surface Protection Film, a thin, almost invisible film that adheres to almost all surfaces. The film is barley noticeable on your floors and protects it from scuffs, scratches and wear. It can be applied in minutes and is just as easy to remove before maintenance. The film is especially useful in high traffic areas where maintenance is most often needed. For example, office areas where rolling chairs abuse floors or in bathrooms to protect the floors and finishings against acid based cleaners. Floor care is still necessary over time, but less frequently as damage to your floors is minimized.
It isn't quality cleaning if we aren't also meeting your expectation for sustainability. Now that we are armed with the knowledge, we look forward to implementing these new technologies into our training. If you're interested in learning more about these new products and how they can be used at your facility, leave a comment below or contact us directly.