Finding a commercial cleaning service that meets all of your needs can be a challenge. From our experience working within the commercial cleaning industry for over 30 years, there are a variety of factors that influence whether a provider is a good match for your business. That is why we've developed an eight step process to help you find the perfect partner.
1. Know What You Want.
Before you start your search, set your standards. What do you want to accomplish with your commercial cleaning services? The provider that you select needs to meet the requirements of your building and industry with zero exceptions. Also take the time to determine your budget, but keep in mind that you will receive a range of prices. What you want to spend may be different from what your facility requires. Quality cleaning with proven systems comes at a cost, but the consequences of hiring the wrong provider are much greater.
2. Ask the Right Questions.
Most customers make decisions based on price and get burned by poor choices. Asking the right questions will help you narrow your search from all 15 local providers to the top three contenders. Ask about their hiring and training methods. Ask about billing because your billing preferences may affect what size company is right for you. Don't forget about liability. Your business needs to be protected at all times. Once you've narrowed down your list, you can meet with the prospects in person.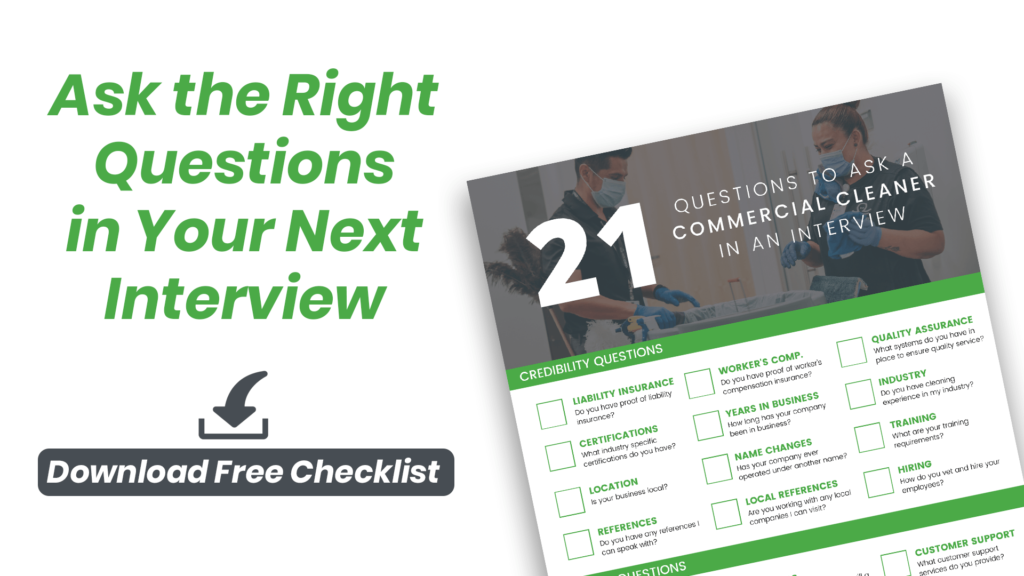 3. Hold a Group Briefing.
Schedule a group meeting with your prospects to gather more information. Ask each prospect to arrive prepared with questions. The right provider will ask detailed questions about what you expect in terms of service deliverables, communication requirements, and billing. Ask for at least three references. Make the time to visit some of the locations they service. Check lobbies and restrooms for visible signs of neglect. Don't forget to check the floors and windows.
4. Request a Bid.
Now that you know the companies better, you can request a bid from each of the service providers. Bids determine the cost and value of the janitorial services you've selected. A bid is influenced by a variety of different factors: labor, facility size, services, products and equipment. But the hard costs aren't all that matters. Also consider the nuances of each bid that make them different from one another. Is the provider proposing automated processes, a sustainable cleaning program or disinfection technology that will prevent sickness and infection? All of these elements must be considered.
5. Understand Prices
Let's say you've received a series of bids and one provider has come in higher than the rest. That provider should be able to justify that price difference. The price may be greater because of their systems and training, the technology that they use, their certifications, the fact that they are registered with the California Department of Industrial Relations. Once you know why they've set their price the way they did, question the other providers. What is it that they missed or aren't providing?Is it possible that they under bid just to secure your business? The difference on paper may be enticing, but the difference in service will be drastic.
6. Make Your Selection.
Yes, your selection should be someone who will provide quality services, but they must also be someone you can build a partnership with. A partner needs to be reliable, available and honest. You also need to hold your end of the bargain. Ask the providers what is expected of you. Whether it is making necessary repairs and improvements or getting your staff on board, you need to do your part to develop a good standing relationship.
7. Hold Everyone Accountable.
When team members are held accountable, less mistakes are made. Develop a plan with your chosen commercial cleaning service to ensure that services are completed regularly. Also ensure that your provider is available to speak with you if there is an emergency or additional services need to be scheduled. Customers can hold themselves accountable by acknowledging both the negative and positive outcomes of the cleaning process, maintaining fair expectations and acknowledging that cleaning adds value to the organization.
8. Make Improvements.
New cleaning technology is developed every day. Stay current on the newest technology and ask your provider about these service options. The right provider will do their own research and will introduce new products to you as they are released. They will also have all the necessary certifications. New technology has the power to improve the health and safety, sustainability and operations at your facility. If you are complacent, you may fall behind in terms of OSHA regulations and standards.
We hope that these eight steps help you find the right commercial cleaning service for you. Interested in learning more about what we do? We offer a wide variety of services including general janitorial, electrostatic disinfection, floor care and more. Contact us to get started!