Hiring cleaning staff, training them, paying workers compensation, and managing them was an added stress to Loma Linda University Health's already busy facilities team. When they found the partner they needed in OctoClean, they were able to bypass all of these obstacles completely.
Loma Linda University Health (LLUH) works with a wide range of patients and needed a janitorial partner with an advanced knowledge of maintaining the environment of care. Together, OctoClean and LLUH have created an environmental services program that keeps their buildings clean and their patients and staff protected.
LLUH's partnership with OctoClean began in 2016. While they were looking for a provider that could offer quality general janitorial and day porter services, LLUH got the added bonus of a partner that also maintains their floors, carpets, and windows as well. OctoClean also handles all paper product and janitorial supply ordering.
"One thing we haven't experienced with other vendors that we are now with OctoClean is consistency. When quarterly services are scheduled, you expect quarterly services to get done. Octoclean provides that."

Kevin Fischer, Executive Director at Loma Linda University Health
A Day Porter System that Works
OctoClean janitorial staff perform thorough cleanings at each facility nightly, while porters maintain LLUH facilities throughout the day. Day porters at each location have developed their own system unique to their assigned facility. They are responsible for cleaning restrooms, keeping floors clean and free of hazards, wiping down and disinfecting high touch surfaces, taking out the trash, and refilling paper products as needed.
Communication is maintained between LLUH and OctoClean through the use of email groups. Each building is assigned an OctoClean email that includes each building's property manager, OctoClean franchise owner, and OctoClean support team.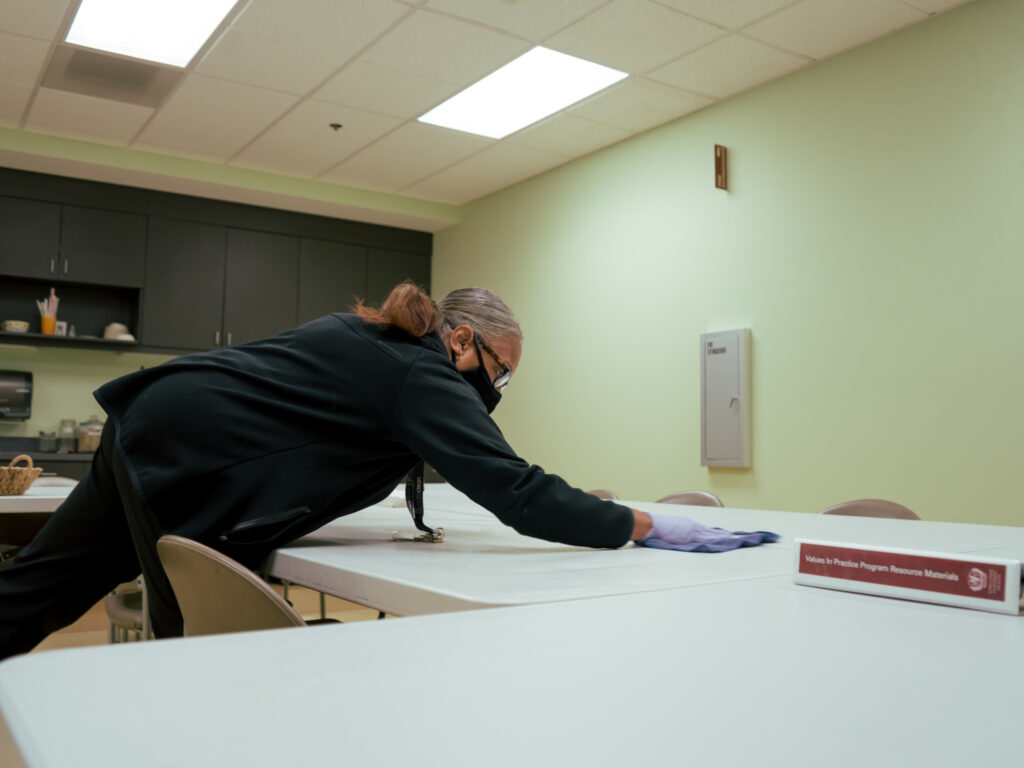 OctoClean customer support constantly monitors emails groups and notifies day porters of emergency notifications via walkie talkie. Emergency notifications include paper refills that have been missed or need immediate attention, patient accidents or spills, over flowing trash, and terminal cleanings of rooms where patients are COVID positive, have lice, or have scabies. Porters respond promptly to resolve these concerns.
Each request that comes through is logged as a ticket and added to LLUH's monthly service report. LLUH and OctoClean meet one time per month to review service complaints, notifications, requests, and updates from their unique service report dashboard.
Shifting to Meet LLUH's Needs
When the COVID-19 pandemic placed a higher demand on LLUH's medical team, OctoClean was there to help with advanced disinfection services like touchpoint disinfection and electrostatic disinfection. New training courses were developed and made required for all OctoClean personnel without any special request from LLUH. OctoClean also made accommodations to increase service hours and guarantee that LLUH had the supplies necessary to take care of their people. Supplies included hospital-grade disinfectant, hand sanitizer, gloves, and masks.
As LLUH continues to expand and broaden it's service offerings, OctoClean will be there to support them along the way.
Get Started Today
Create a Clean Workplace with OctoClean